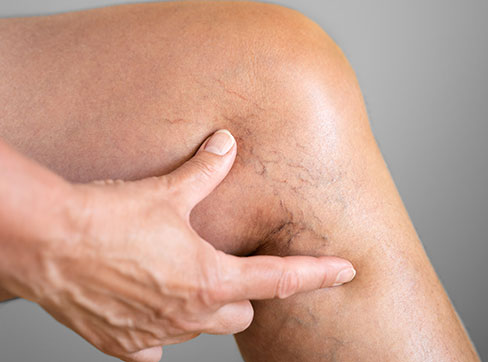 Vein disease has 5 main symptoms: swollen legs or ankles, achy or heavy legs, leg restlessness or cramps, skin discoloration or dryness, and leg pain. Vein disease, also known as venous insufficiency, is a condition that affects millions of people worldwide.
Mequon Vein is home to Dr. Sabatino, an experienced vein specialist. Dr. Sabatino will accurately diagnose your vein symptoms and develop a custom treatment plan for you. Contact us today to learn more about common symptoms associated with vein disease, and we'll help you decide if it's time to seek professional medical attention.
Vein disease occurs when the valves within the veins fail to function properly, leading to blood pooling and increased pressure within the veins. As a result, various symptoms arise, indicating the presence of vein disease.
Signs and Symptoms of Vein Disease
Spider Veins Symptoms vs Varicose Veins Symptoms
The following chart can help you determine if your symptoms reflect spider or varicose veins.

Spider Veins

Varicose Veins
Anywhere on the body, beneath the skin's surface
Anywhere on the body, above the skin's surface
Low. Less likely to cause venous symptoms
Moderate to high. Often cause painful leg symptoms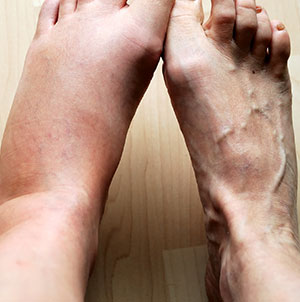 Swollen Legs or Ankles
One of the prominent symptoms of vein disease is leg swelling, also known as edema. This occurs due to the impaired circulation caused by dysfunctional valves within the veins. When the valves fail to efficiently return blood to the heart, blood can accumulate and pool in the lower extremities, resulting in swelling.
Leg swelling associated with vein disease is often more noticeable at the end of the day, after prolonged periods of standing or sitting. It typically affects the ankles and calves but can extend to the entire leg in severe cases.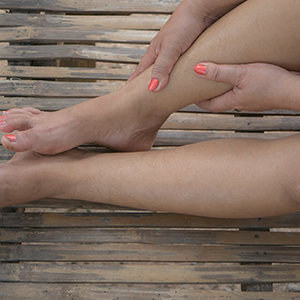 Achy or Heavy Legs
Another common symptom of vein disease is the sensation of achy or heavy legs. This discomfort typically arises as a result of impaired blood flow and increased pressure within the affected veins. The feeling of achiness or heaviness is often more pronounced after prolonged periods of standing or sitting, as well as towards the end of the day.
Individuals with vein disease may describe their legs as feeling tired, sore or fatigued. The sensation can be accompanied by a dull, persistent ache that may worsen with activity or when the legs are elevated for extended periods.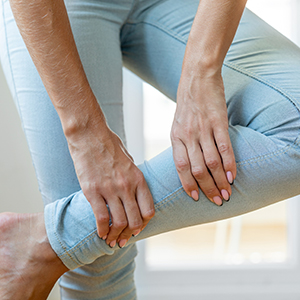 Leg Restlessness or Cramps
Leg restlessness or cramps can be additional symptoms of vein disease. These sensations often manifest as an uncontrollable urge to move your legs, especially when you're at rest or trying to sleep. This condition is commonly referred to as restless legs syndrome (RLS) and can be associated with venous insufficiency.
Individuals with vein disease may experience discomfort in the form of tingling, itching or a crawling sensation in their legs. This can lead to an overwhelming need to constantly move the legs for relief. Leg restlessness can disrupt sleep patterns, causing sleep deprivation and daytime fatigue.
In addition to restlessness, individuals with vein disease may also experience leg cramps. Cramps are typically described as sudden, intense muscle contractions that cause pain and can last for several seconds to a few minutes. Cramps commonly occur at night and may be triggered by prolonged periods of inactivity or excessive fluid retention.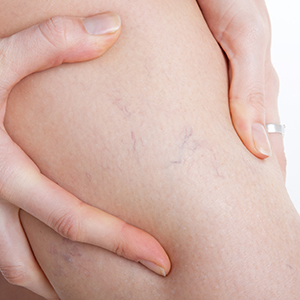 Skin Changes
Skin changes may be symptoms of vein disease. As venous insufficiency progresses, impaired circulation and increased pressure in the veins lead to various changes in the skin of the affected areas. Changes may include:
Discoloration: The skin around the affected veins becomes discolored, appearing reddish or brownish. This discoloration is known as hyperpigmentation and is caused by the pooling of blood in the veins.
Ulcers: In severe cases of vein disease, chronic venous ulcers develop. These are open sores that typically form around the ankles or lower legs. Venous ulcers can be painful, slow to heal and prone to infection.
Dryness and Itching: The skin in the affected area becomes dry and itchy due to poor circulation and inflammation. Scratching can further damage the skin barrier and increase the risk of infection.
Skin Thinning: Over time, the skin in the affected area becomes thin and fragile. This makes it more susceptible to injuries and can result in slow wound healing.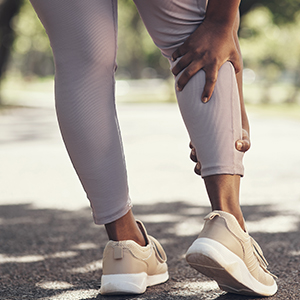 Leg Pain
Leg pain is a significant symptom commonly experienced by individuals with vein disease. The pain varies in intensity and presents in different forms, depending on the specific condition causing the vein disease.
In some cases, vein disease leads to more severe leg pain, such as sharp or shooting pain. This type of pain could indicate complications such as blood clots or inflammation of the veins (phlebitis). It is crucial to seek immediate medical attention if you experience sudden, severe leg pain.
Varicose Veins
The National Library of Medicine stated 20% of all adults will get varicose veins at some point in their lives.
Approximately 23% of US adults have varicose veins according to AHA Journals.
40 million people in the US have been diagnosed with varicose veins before, about 12.5% of the country's population.
Schedule Treatment for Vein Disease Symptoms
If you're experiencing symptoms of vein disease, it's crucial to seek timely treatment. Vein disease often causes discomfort, pain and complications. Schedule a consultation and we'll design a treatment plan. Alleviate discomfort, improve circulation and prevent further complications with treatment from MequonVein.
Where do I start! For starters the staff is incredible !! They really are. I have been suffering from a variety of leg pains for years. The doctor and staff advised me during my initial consultation that my symptoms were because of varicose veins. I was shocked because I only had a few visible veins. I didn't know what the problem was but I did not expect the answers they gave me. The staff is very dedicated and friendly and unbelievably conscientious of my needs for a solution to my leg pains. I listened intently and after my second consultation I was convinced that Mequon Vein would be the solution to my leg pains. After my two initial treatments I noticed that I was already on the road to less pain and the ability to sit in my car or on hard bleachers for longer durations. By the end of the first month I was virtually free of all pain in my legs. I had a total of six treatments and now I am symptom free. I only wish I had gone into Mequon Vein years earlier.
Our Office Locations
Mequon Vein has provided varicose vein treatment in the greater-Milwaukee area and beyond since 2004. We welcome patients from all over Wisconsin, Northern Illinois, and beyond. Stop by one of our two locations:

VIEW BROOKFIELD HOURS
Monday: 7:30am-4:00pm
Tuesday: 7:30am-4:00pm
Wednesday: Closed
Thursday: Closed
Friday: Closed
Saturday: Closed
Sunday: Closed
VIEW BROOKFIELD HOURS
Monday: 7:30am-7:00pm
Tuesday: 7:30am-4:00pm
Wednesday: 7:30-4:00pm
Thursday: 7:30am-7:00pm
Friday: 7:30am-4:00pm
Saturday: Closed
Sunday: Closed
17280 West North Ave
Suite 200
Brookfield WI, 53045-4366
Mequon Vein Service Areas
Mequon Vein is a vein treatment center servicing Brookfield, Menomonee Falls, Sheboygan, Waukesha, and the surrounding communities in Southeast Wisconsin. If you need vein treatment, contact our physicians today for a free consultation.
A member of the American Society for Laser Medicine and Surgery, Inc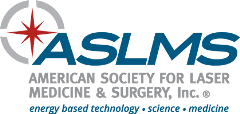 Our offices are proudly No Surprises Act compliant